art classes
at kind-hearted studio
Discover your inner artist! Located in Stratford, Ontario, kind-hearted studio provides all the necessary tools and guidance needed to create your own work of art (painting on canvas, watercolour, collage, drawing, etc). Join a class, participate in a workshop or book your own private party! Classes and workshops are available for all ages – no previous art skills are required.
We are currently offering the following classes:
Art Classes
EXPLORE & EXPERIMENT
This playful class engages kids in exploring with a variety of tools to create while experimenting with different mediums (print making, painting, oil pastels, collage, sculpture etc).
Dates:
6-8 years old
Tuesday September 7 – October 5 from 5-6pm  SOLD OUT
Tuesday Oct 12 from 5-6pm – $115 plus tax (only few spaces left)
Tuesday Nov 16 – Dec 14 from 5-6pm – $115 plus tax
9 -12 years old
Tuesday September 7 – October 5 from 6:30-7:30pm  SOLD OUT                                                                           Tuesday Oct 12 from 6:30-7:30pm  (only few spaces left)
Tuesday Nov 16 – Dec 14 from 6:30-7:30pm – $115 plus tax
PIZZA AND PAINT (5 years+)
Kids choose what kind of image they'd like to paint, they'll receive step by step instruction to draw and transfer their image onto the canvas to create their own masterpiece. Pizza and a drink included.
Dates:
Monday October 11 from 11:30-1pm
Saturday October 16 from 11:30-1pm
Cost: $30+tax
POUR & PAINT PARENT/CHILD PROGRAM
Join us Saturday September 18 at 1:30pm for a Parent and Child art class. We'll be using nature as our inspiration and using leaves to help us create an abstract work that using spray paint. Participants can choose to complete a painting together or create their own abstract artwork. Cost will vary depending on the size of canvas and if you paint together or separate.
Cost: one painting 16×24 – $40 plus tax (additional fee if you wish to paint on a larger canvas or wish to do two paintings)
ADVANCED ADULT DRAWING & PAINTING CLASS
Based on your own ideas we'll provide the necessary guidance and instruction you need whether it's watercolour, pencil drawing, acrylic painting or pastels.
Wednesday October 13th from 7-8:30pm
6 week program
$150 plus tax
NEW: TEEN ART SERIES (10yrs and older)
We're excited to add this program to our line up! Adding more 3D art to the mix, this class will explore jewlery making, mosaic frames, galaxy painting, pour painting, mixed media collage
Dates:
Thursday September 30 – October 28 from 6:30-7:30 – 1 spot left
Thursday November 18- December 16 from 6:30-7:30
Cost: $115 plus tax
TEEN: ART & ANXIETY (12-16yrs)
**Therapy based program** We've seen a drastic increase in teen's experience anxiety, this a therapy base program that will teach teens what anxiety is, where it show up in our bodies, the sensations associated with it and focus on various tools to help the manage and cope with this big feeling. This educational program will use art as a tool to help enhance the communication process. *This is not specifically just an art program. For teens 12-16 years old
Wednesday October 13 from 5:30-6:30pm
Cost: $150 plus tax (benefits may cover)
PAINT NIGHT @ Jobsite Brewery
Paint Night at Jobsite! (All ages)
Create your own masterpiece – inspired by fall, we've got a few tricks up our sleeve to make this painting fit all ages! Great for a girls night out, date night, or family event. We'll be selling tickets based on "pods" – you'll have your own picnic table where you'll drink, eat, paint and be merry! Limited space available.
Thursday October 21 from 6-7:30pm.
Cost:
2 people per pod – $60 plus tax
4 people per pod – $100 plus tax
6 people per pod – $135 plus tax
(pricing reflects smaller canvas 12×12 and 1.5hr class)
ADULT POUR & PAINT PAINT NIGHT
Grab a friend and some wine – we're about to get messy! We'll be using glitter, spray paint, rubbing alcohol and lots and lots of paint! You can't mess this up! No previous art experience needed. All materials and supplies provided
Thursday November 4 at 7pm @ Kind-heARTed Studio
$40 plus tax
limited space available
SKETCHING & SHADING (10 years +)
This is a 6 week session. Drawing is the foundation of art, this class will teach students about shading, value, size, proportion, and other tips for drawing. 10 years old+
Dates: TBA
Birthday Parties & Summer Camp
SUMMER CAMP
In these half-day sessions, campers will have access to a wide range of art materials and let their own curiosity be their inspiration. Some guided arts and crafts projects will be provided, but participants will also have free time to explore on their own. Weather permitting, we will take kids to a nearby family-friendly park for outdoor games and play for at least an hour a day.
PLEASE BE ADVISED THAT SUMMER CAMPS ARE SOLD OUT FOR THIS YEAR
BIRTHDAY PARTIES
No mess, no fuss leave it to us! Parties are two hours in length – We go with the flow and take breaks when necessary to allow time for presents and/or food. You are more than welcome to bring any food, drinks or snacks with you. Please bring the necessary cutlery, candles, lighter etc with you that you need.
Option 1: Abstract Graffiti  – Using a wide range of tools (spray paint, dish soap, stencils, fly swatters, lids, etc) kids experiment to create an abstract design. Be ready to be surprised! As you never know what you're going to get!
Option 2: Step by Step Painting – We love to get suggestions from the birthday boy/girl on what they'd like to paint. Based on their suggestions we'll come up with a painting just for them.  We'll guide party-goers step by step so they can create their own painting following along.
Option 3: Kids paint what they want! They'll receive individual instruction to create the masterpiece of their choice.
School Workshops
Painting Workshop (Grade 2+)
Step by step instruction for students to learn techniques to create their own painting. In addition to learning about composition, colour mixing and painting techniques – emphasis will be on how art resembles life, students learn:
There's many ups and downs so we must be kind to ourselves – we aren't Picassos
They'll all be the same but different, and that's great! Embrace you – your painting is yours you can add whatever you wish
No such thing as mistakes. They can always be fixed but often those mistakes become the best part
Doodle Workshop (Grade 4+)
Doodling is a form of art that is non-representational and unplanned, the intention is to focus on each stroke as you make it. Letting go of expectation and self-criticism, and fear of failure. There is no right way or wrong way to do zentangle, its done in pen to embrace "mistakes" as in art mistakes are often the best part. In life, we're given no erasers, we just make do. This meditative state of drawing engages students in the present moment, fully engaged in what they are doing. This is a great tool to utilize when feeling overwhelmed, anxious, or angry. Students will learn simple patterns that can be repeated in many designs, and will be given time to create their own drawings.
Self Talk: Inner Critic vs. Inner Cheerleader (Grade 7 – 12)
This workshop helps teens identify the impact of our thoughts and how it can impact our feelings and behaviours. It does so by helping teens develop an awareness of when thoughts and self-talk may be having a negative or irrational influence on the way they act. Students will be invited to participate in a discussion about self-talk – what is self talk, how does it sound, and what are some ways which we may talk to ourselves. Students will create their own character that represents their inner critic, discussion will focus on emphasizing that we all have an internal dialogue, despite not always being able to recognize it as such. Goals: develop an awareness of how thoughts affect our feelings and behaviours. Emphasis will also focus on self-compassion, how to treat ourselves and talk to ourselves when faced with a difficult situation.
Commisioned Artwork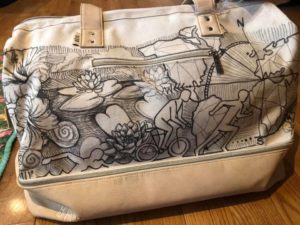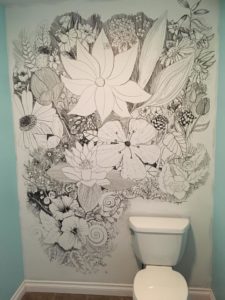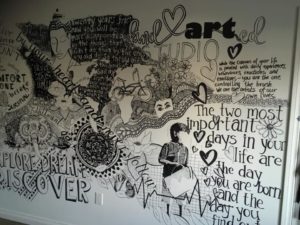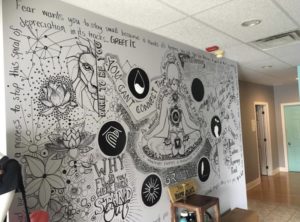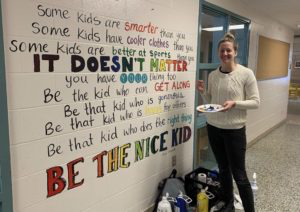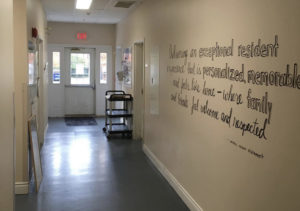 email
phone
address
629 Ontario St.
Stratford, ON
N5A 3J5