art classes
at kind-hearted studio
Discover your inner artist! Located in Stratford, Ontario, kind-hearted studio provides all the necessary tools and guidance needed to create your own work of art (painting on canvas, watercolour, collage, drawing, etc). Join a class, participate in a workshop or book your own private party! Classes and workshops are available for all ages – no previous art skills are required.
We are currently offering the following classes:
Kids/Teens Art Classes
For dates and how to register please see our studio calendar.
Explore & Experiment
This playful class engages kids in exploring with a variety of tools to create while experimenting with different mediums (print making, painting, oil pastels, collage, sculpture etc).
Pour & Paint Parent and Child Program
Looking for something to do with your child? We're about to get messy! We'll be using glitter, spray paint, rubbing alcohol and lots and lots of paint! You'll work together with your child to create a pour painting! No previous experience needed.
Sketching and Shading
A drawing program for kids – kids will learn how to draw a wide variety of things – landscapes, animals, nature. For kids 9-13 years old
Process Art (5-8 years)
Process art classes give young students the opportunity to try out a verity of materials and techniques. They will have the freedom to experiment and enjoy the creative process. Taught by the talented Shawna@creativemeanderings
Step by Step Painting Class
Small class – learn step by step how to create a painting – based on various themes throughout the year. For kids 8-12 years old. 1.5hrs
Mixed Media (New 10-15 years)
Mixed media art journaling workshops will teach students techniques to express thoughts and feelings in a visual way, while having lots of fun. We will explore how colours and symbols can express emotions and ideas without using words, as well as a variety of techniques for creative expression. We will use an inspiring assortment of art supplies, ephemera, and objects found around the house. Taught by the talented Shawna@creativemeanderings
Digital Drawing (10 years +)
Learn the basic techniques of digital drawing! This is an exciting new program we've developed and are thrilled to offer it! Students must supply their own iPad and must purchase a program called Procreate prior to the beginning of the program. Facilitated by Jayden.
Not currently offered at this time…
Teen Series (10year +)
We're excited to add this program to our line up! Adding more 3D art to the mix, this class will explore abstract mixed media painting, sculpture, spray paint & stencil and more. Facilitated by Eliesha
Pour & Paint Teens
Spray paint, fire and a great big mess! What else could your teen want? We'll be using glitter, spray paint, rubbing alcohol and lots and lots of paint! No previous experience needed.
Adult Programming
For dates and to register please visit our studio calendar.
Adult Paint Night
Receive step by step instruction to create your own masterpiece. Bring your own beverage.  No artistic skills needed, all materials provided. 2hr class.
Pour and Paint
Grab a friend and some wine – we're about to get messy! We'll be using glitter, spray paint, rubbing alcohol and lots and lots of paint!  You can't mess this up! No artistic skills needed AT ALL! Can't screw this up – the perfect paint night you'll want to attend. No stress.
Private Art Classes – Beginner 1 & Beginner 2
Beginner 1 class for absolute beginners where they learn about blending and some basic brush stroke techniques like grass and basic trees.
Beginner 2 class for people who can do those basic techniques, we're going step it up a notch and teach you something like birds, flowers, more advanced trees, and highlighting/shadow.
AVAILABILITY: Thursday's, Friday's from 6-8pm or Saturday's from 10-noon.
Watercolour 101: Whimsical Masking Fluid Tree
Dabbling with watercolours? This course is for you! Learning what masking fluid does and doesn't! Create your own 5 x 7 creative and whimsical tree (drawing instruction included if desired). Learn about tree placement, branching techniques, horizon line, application of masking fluid, playing with colour, graduated wash, light and shadow play. 3hr class. Facilitated by Barb
*Materials not provided
Paint Your Pet: use your tech devices to "see" your subject
Learn how to use the editing software tech to enable you to paint ANY picture!  Create a 5 x 7 watercolour of your favourite pet pic. Learn about edit/crop photo, rule of thirds, decide simplified background; Transfer paper to get basic lines; Palette choice… zoom in to pixels to see colours; Background wash; highlights, shadows, determine light source; zoom for details, subsequent layers, adding highlights. 4hr workshop. Facilitated by Barb.
NOT OFFERED AT THIS TIME…
Booze & Bling
Have you ever wanted to create your own jewelry? Well here's your chance! Choose from one of 6 gemstones to create a beautiful pendant that you can keep for yourself or give away as a gift! Pick your own stone! Facilitated by Eliesha
Open Studio
Want to create but always finding something that gets in the way? Come join us for a 6 week session, where you'll have the freedom to create, the resources to inspire and a community of like minded individuals. Creating space for you to work on your own projects, there will be limited direction and guidance – this is a self directed program. Please bring all your own supplies and materials. 6 week program for 2hrs each week. The program will be overseen by Barb.
Creative Flow
This 6 week workshop explores how art resembles life. As any artist approaches a blank page or a piece of canvas, it's a brave step, we never really know how it's going to turn out. We have an idea of what we want but as we begin to create, we start to see things emerge and go with what's working.
Just as in life, any new adventure or journey comes with a blank page, allowing you to write the story. It's a brave step, and you can never really be prepared or guess what's all going to happen.
What are the similarities between the creative process and life? We're exploring our own creativity and the meaning of life. Led by Laura Mowbray (Yoga Instructor) and Vanessa De Groot.
Women's Retreat
Reviving the Soul – Weekend Retreat
Take time to fill your own cup, through meditation, yoga, journal and creative arts we'll guide you through a mix of programming to reinvigorate and rejuvenate the soul. Morning hikes and ample free time allow you time to sit back and relax. We're escaping to the quaint town of Tillsonburg, where we'll have all our needs met on site – with panoramic views of the Big Otter Creek, the beautiful Mill's Inn was built in 1878, historically a pea and barley mill transformed into beautiful restaurant and inn.
Date Coming soon!
Birthday Parties & Summer Camp
SUMMER CAMP
**We are experiencing issues with our online booking system – spots are available in all camps. Please contact us to register
July 11-15 – SOLD OUT
July 18-22 – SOLD OUT
August 15-19 – SOLD OUT
August 29-Sept 2 – SOLD OUT
In these half-day sessions (8:30am-12:30pm), campers will have access to a wide range of art materials and let their own curiosity be their inspiration. Some guided arts and crafts projects will be provided, but participants will also have free time to explore on their own. Weather permitting, we will take kids to a nearby family-friendly park for outdoor games and play. Camps are for children 6 years and older (must be 6 by May 2022).
***These are not art camps. We will do an art activity daily, but throughout the day we will be doing many other activities.
BIRTHDAY PARTIES
No mess, no fuss leave it to us! We go with the flow and take breaks when necessary to allow time for presents and/or food. Birthday party options available for 5 years and older. We have a variety of birthday party options available with various time lengths and  materials. For more information please send us an email and we'll be happy to send you our birthday party package.
School Workshops
Painting Workshop (Grade 2+)
Step by step instruction for students to learn techniques to create their own painting. In addition to learning about composition, colour mixing and painting techniques – emphasis will be on how art resembles life, students learn:
There's many ups and downs so we must be kind to ourselves – we aren't Picassos
They'll all be the same but different, and that's great! Embrace you – your painting is yours you can add whatever you wish
No such thing as mistakes. They can always be fixed but often those mistakes become the best part
Doodle Workshop (Grade 4+)
Doodling is a form of art that is non-representational and unplanned, the intention is to focus on each stroke as you make it. Letting go of expectation and self-criticism, and fear of failure. There is no right way or wrong way to do zentangle, its done in pen to embrace "mistakes" as in art mistakes are often the best part. In life, we're given no erasers, we just make do. This meditative state of drawing engages students in the present moment, fully engaged in what they are doing. This is a great tool to utilize when feeling overwhelmed, anxious, or angry. Students will learn simple patterns that can be repeated in many designs, and will be given time to create their own drawings.
Self Talk: Inner Critic vs. Inner Cheerleader (Grade 7 – 12)
This workshop helps teens identify the impact of our thoughts and how it can impact our feelings and behaviours. It does so by helping teens develop an awareness of when thoughts and self-talk may be having a negative or irrational influence on the way they act. Students will be invited to participate in a discussion about self-talk – what is self talk, how does it sound, and what are some ways which we may talk to ourselves. Students will create their own character that represents their inner critic, discussion will focus on emphasizing that we all have an internal dialogue, despite not always being able to recognize it as such. Goals: develop an awareness of how thoughts affect our feelings and behaviours. Emphasis will also focus on self-compassion, how to treat ourselves and talk to ourselves when faced with a difficult situation.
Commisioned Artwork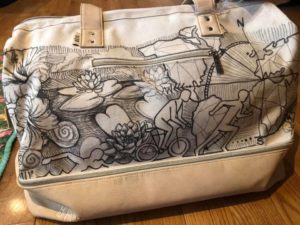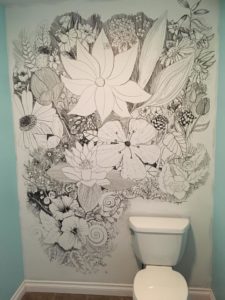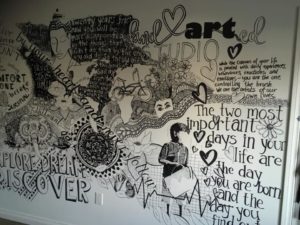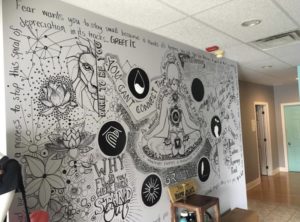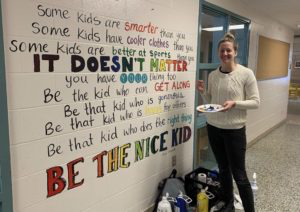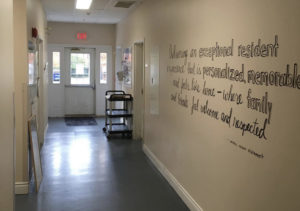 Meet Our Facilitators
Vanessa
As a little girl she often dreamed of one day owning her own art studio. Fast forward and here we are! As we grow and expand, Vanessa's focus will move towards providing therapy services, however, there's always a piece of her heart that wants to stay involved teaching and exploring. Vanessa will be facilitating drawing and painting classes for kids and adults.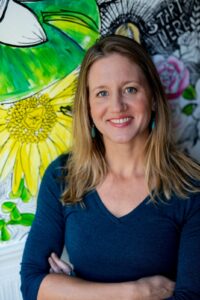 Eliesha
After years of employment at the Stratford Festival, Eliesha has taken the brave step of returning back to school to follow her passion of helping and serving others. She's currently completing her 8 month placement at Kind-heARTed Studio, as part of her Social Service Worker diploma at Durham College. During her free time Eliesha is creating jewlery and paintings – you can find her on instagram @starstuffbyeliesha. Eliesha will be facilitating the Teen Art Series, Paint and Pours and other programs as well. Eliesha will finished her placement in August.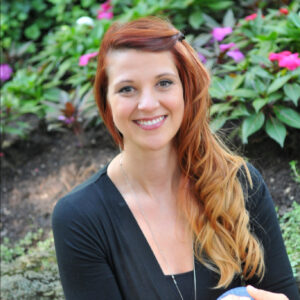 Shawna
Throughout my entire life, I have enjoyed arts and crafts of all sorts, and am happiest when engaged in the creative process. I am a self-taught artist who loves to try out new techniques and materials in my mixed media art journals. I want to share the joy of creating with others and help them experience the satisfaction and rejuvenation that comes from creative expression.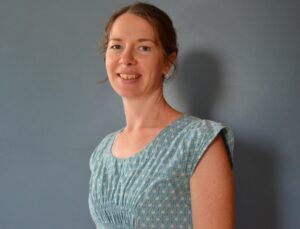 Barb
"Creativity is the ability to perceive something in a new way, to find hidden patterns, to make connections between seemingly unrelated phenomena, and to generate solutions."  Hi!  I'm Barb Marion – recently retired grade school teacher/newly minted full time artist.  Always an artsy kid, I enjoyed teaching art to children for a 32 year career.  On retirement, I had time to explore creativity as defined above with a new/old medium and jumped into watercolour.  I am excited to share my journey as a life long learner in this amazing space with fellow creative types/artists!
—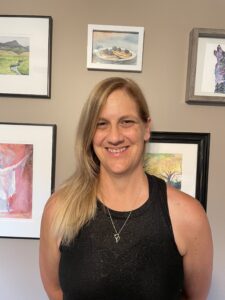 Lisa
I am so excited about sharing my art through teaching and working with Kind-heARTed Studio!! Many years of living in Toronto brought some interesting opportunities my way in various artistic forms from landscape design to folk art to wildlife painting.  I've pursued education with some amazing mentors over the years and I now enjoy working in my own style. Although I lived in a big city for many years, I grew up in the area and I yearned to be embraced once again by the pleasant small town attitude. A few months ago I moved back and I'm thrilled to be living in Stratford, following my dream!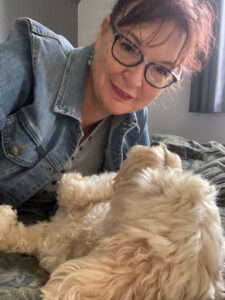 Jayden
A St. Mike's graduate, she has a passion for art and all things creative. She would like to continue her studies at University pursuing art in some form. For the last three years Jayden has worked at Camp Bimini as a camp counsellor. She's excited to be sharing her skills and knowledge with the kids! Jayden will be teaching and facilitating our Explore and Experiment Series and Digital Drawing classes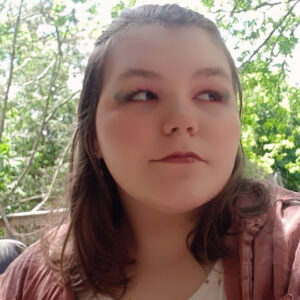 .
Victoria
Victoria Morris is the owner of Ivy Rose Creative, a local small business that aims to to provide early learning resources and consulting services to families and educators.  Along with curating unique early learning kits Victoria teaches a variety of Classes and Workshops as POP-UP programming in the community.  You can also find Victoria packing her bubbles, parachutes and endless craft supplies and traveling throughout Stratford and surrounding areas.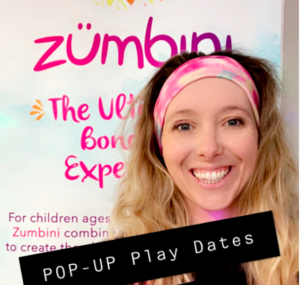 Alicia
Painting has transformed my life. If you told me that I'd be painting like this three years ago, I wouldn't have believed you. A self-taught artist, I paint with acrylic on canvas and wood. My art is inspired by nature, especially old forests, and ranges from birds and animals to fantasy and faerie tales. Living in a quiet town in rural Ontario is also very inspiring for me. I love to sit on my back porch and enjoy the wild birds that I feed, tending my flower garden and of course painting. I am always excited to challenge myself by painting new things, and learning new techniques. I am very excited to share my love of painting with others. 
http://thistlecreekart.ca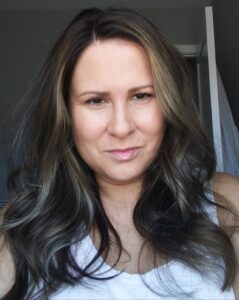 email
phone
address
629 Ontario St.
Stratford, ON
N5A 3J5