art classes
at kind-hearted studio
Discover your inner artist! Located in Stratford, Ontario, kind-hearted studio provides all the necessary tools and guidance needed to create your own work of art (painting on canvas, watercolour, collage, drawing, etc). Join a class, participate in a workshop or book your own private party! Classes and workshops are available for all ages – no previous art skills are required.
We are currently offering the following classes:
Art Classes Kids/Adults
For dates and how to register please see our studio calendar.
NEW!!! MakerSpace (any age)
Saturday's from 3-6pm
We realize that scheduled activities don't always match up with your schedule, so we want to create a playful opportunity for people of all ages, where they can come on their own and create. MakerSpace is the perfect place to come and explore various mediums – almost like an al la carte menu – the choices are endless.
Choose your art medium – drawing, sculpting, pour and paint, mixed media, representational or landscape painting, mixed media painting, abstract painting
Choose your size – 8×10; 11×14; or 16×24
Choose your colours
We'll set you up your supplies and what you'll need and VOILA! Happy Creating!
What you need to know:
Prices vary $20-$60 plus tax depending on the size and medium you choose
Kids under 9 years of age must be supervised by a parent (they can hang out in our lounge while kids create)
Some support will be provide in terms of set up or questions but no step by step art instruction will be provided.
Payment: email transfer only
Reserve your time – you can choose anywhere between 3-5pm; studio closes at 6pm.
Explore & Experiment (6-8yrs & 9-12yrs)
This playful class engages kids in exploring with a variety of tools to create while experimenting with different mediums (print making, painting, oil pastels, collage, sculpture etc).
Pour & Paint Parent and Child Program
Looking for something to do with your child? We're about to get messy! Customize your painting by choosing your own colours, choose from glitter, silicone and fire to create an interesting effect in your painting. You'll work together with your child to create a pour painting! Dress for the mess as paint doesn't come out of clothes. No previous experience needed. Takes 3 days to dry, pick up at studio required 3 days later.
Adult Pour and Paint
Looking for something to do? This fun abstract class has minimal step by step instruction – perfect for chatting with family or friends.  Go with the flow, let go of all control and see what happens! No previous art skills required. It gets messy, dress for the mess as paint doesn't come out of clothes. Customize your painting by choosing your own colours, choose from glitter, silicone and fire to create an interesting effect in your painting. Bring your own beverages. Takes 3 days to dry, pick up at studio required 3 days later.
Sketching and Shading
A drawing program for kids – kids will learn how to draw a wide variety of things – landscapes, animals, nature. For kids 9-13 years old
Beginner Paint Class
This 4 week introductory class for painting will teach you basic brush strokes, techniques, blending and colour mixing. Supplies provided.
Book a Private Party
Whether it be a bachelorette, shower, girls night, work party, birthday party (all ages) – gather your crew and come by the studio. Have your choice of Paint night style painting, we'll teach you step by step instructions on how to create your very own masterpiece. Or choose the Pour and Paint option, this abstract class is a great fit for those who may not believe they're artistic and just want a fun and playful class. You never know what you'll get, but everyone always walks away happy. Minimum fee rate applies or group of 8 and more.
NOT OFFERED AT THIS TIME…
Creative Flow (adults)
This 6 week workshop explores how art resembles life. As any artist approaches a blank page or a piece of canvas, it's a brave step, we never really know how it's going to turn out. We have an idea of what we want but as we begin to create, we start to see things emerge and go with what's working.
Just as in life, any new adventure or journey comes with a blank page, allowing you to write the story. It's a brave step, and you can never really be prepared or guess what's all going to happen.
What are the similarities between the creative process and life? We're exploring our own creativity and the meaning of life. Led by Laura Mowbray (Yoga Instructor) and Vanessa De Groot.
Women's Retreat (adults)
Reviving the Soul – Weekend Retreat
Take time to fill your own cup, through meditation, yoga, journal and creative arts we'll guide you through a mix of programming to reinvigorate and rejuvenate the soul. Morning hikes and ample free time allow you time to sit back and relax. We're escaping to the quaint town of Tillsonburg, where we'll have all our needs met on site – with panoramic views of the Big Otter Creek, the beautiful Mill's Inn was built in 1878, historically a pea and barley mill transformed into beautiful restaurant and inn.
Birthday Parties and Summer Camp
SUMMER CAMP
Three weeks to choose from: July 17-21; July 31-Aug 4; Aug 21-25
This year, we'll be offering three half-day summer programs from 12:30-4:30pm. This is NOT an art camp. During this time, we'll work on art projects and crafts, walking to Upper Queen's park to play, and engage in outdoor games. Camps are open to kids 6 years and older (must be 6 by May 2023).
To reserve your spot please send us an email with your child(rens) names and a deposit of $50 per person –  email transfer – kindheartedstudio@gmail.com. I'll be sending out registration forms when deposits are received.
Pricing  $134+HST. Non-refundable deposit due with registration. Outstanding balances must be paid by June 1st.
Refund Policy – Cancellations before June 1st are fully refundable minus the $50 deposit per week.
After June 1st, all camps are non-refundable.
KIDS BIRTHDAY PARTIES (4yrs+)
No muss, no fuss—leave it up to us! Saturday's or Sunday's from 1-3pm (too book an adult birthday party – please see our private party booking)
Choose from either two different painting activities:
Step by step painting (6yrs+) – We take suggestions based on the birthday child's interest – based on that we'll come up with a painting and guide them through the process. Cost:  $130 plus tax (4 people or less) or $130 + $10 for every additional person (ie. 5 ppl – $140; 6ppl – $150 plus tax etc. 8 kids max)
Pour and paint (4yrs +) – We're about to get messy! Each child can customize their 8×10″ painting by choosing their own colours – add in glitter, silicone and fire and BOOM! The masterpiece is created. Dress for the mess as paint won't come out of clothing. **Paintings take 3 days to dry at the studio, pick up for paintings will have to be arranged for a following day. Cost: $160 plus tax (4 people or less) or $175 + $15 for every additional person (ie. 5ppl – $175, 6ppl – $190; 8 kids max)
1 hour of painting and guided facilitation + 1 hour of party time in our lounge – must be supervised by parents. (Set up for party can be done during the painting portion of the activity). Bring cake, candles, food, or games if you'd like, and you may use the studio for up to an hour after to celebrate.
School Workshops
Painting Workshop (Grade 2+)
Step by step instruction for students to learn techniques to create their own painting. In addition to learning about composition, colour mixing and painting techniques – emphasis will be on how art resembles life, students learn:
There's many ups and downs so we must be kind to ourselves – we aren't Picassos
They'll all be the same but different, and that's great! Embrace you – your painting is yours you can add whatever you wish
No such thing as mistakes. They can always be fixed but often those mistakes become the best part
Doodle Workshop (Grade 4+)
Doodling is a form of art that is non-representational and unplanned, the intention is to focus on each stroke as you make it. Letting go of expectation and self-criticism, and fear of failure. There is no right way or wrong way to do zentangle, its done in pen to embrace "mistakes" as in art mistakes are often the best part. In life, we're given no erasers, we just make do. This meditative state of drawing engages students in the present moment, fully engaged in what they are doing. This is a great tool to utilize when feeling overwhelmed, anxious, or angry. Students will learn simple patterns that can be repeated in many designs, and will be given time to create their own drawings.
Self Talk: Inner Critic vs. Inner Cheerleader (Grade 7 – 12)
This workshop helps teens identify the impact of our thoughts and how it can impact our feelings and behaviours. It does so by helping teens develop an awareness of when thoughts and self-talk may be having a negative or irrational influence on the way they act. Students will be invited to participate in a discussion about self-talk – what is self talk, how does it sound, and what are some ways which we may talk to ourselves. Students will create their own character that represents their inner critic, discussion will focus on emphasizing that we all have an internal dialogue, despite not always being able to recognize it as such. Goals: develop an awareness of how thoughts affect our feelings and behaviours. Emphasis will also focus on self-compassion, how to treat ourselves and talk to ourselves when faced with a difficult situation.
Meet Our Facilitators
Vanessa
As a little girl she often dreamed of one day owning her own art studio. Fast forward and here we are! As we grow and expand, Vanessa's focus will move towards providing therapy services, however, there's always a piece of her heart that wants to stay involved teaching and exploring. Vanessa will be facilitating drawing and painting classes for kids and adults.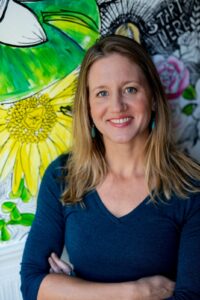 Barb
"Creativity is the ability to perceive something in a new way, to find hidden patterns, to make connections between seemingly unrelated phenomena, and to generate solutions."  Hi!  I'm Barb Marion – recently retired grade school teacher/newly minted full time artist.  Always an artsy kid, I enjoyed teaching art to children for a 32 year career.  On retirement, I had time to explore creativity as defined above with a new/old medium and jumped into watercolour.  I am excited to share my journey as a life long learner in this amazing space with fellow creative types/artists!
—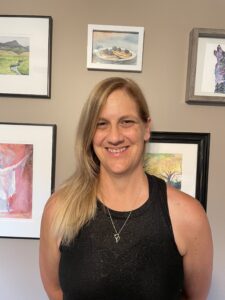 Alicia
Painting has transformed my life. If you told me that I'd be painting like this three years ago, I wouldn't have believed you. A self-taught artist, I paint with acrylic on canvas and wood. My art is inspired by nature, especially old forests, and ranges from birds and animals to fantasy and faerie tales. Living in a quiet town in rural Ontario is also very inspiring for me. I love to sit on my back porch and enjoy the wild birds that I feed, tending my flower garden and of course painting. I am always excited to challenge myself by painting new things, and learning new techniques. I am very excited to share my love of painting with others. 
http://thistlecreekart.ca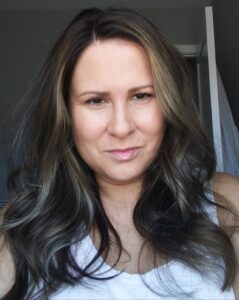 email
phone
address
629 Ontario St.
Stratford, ON
N5A 3J5